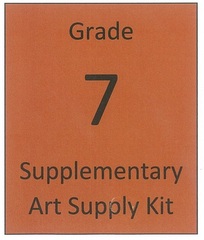 Supplementary Kit - Grade 7
The Grade 7 Supplementary Art Supply Kit provides required supplemental materials for 50 Grade 7 Arts Attack students for 1+ years. It contains the following materials that are not part of the Basic Consumables Kit: colored construction paper (sizes and colors not part of the Basic Kit), black and white tissue paper, acrylic paints (3 colors), tag board, mat board, fine point quills, India ink, unbleached muslin, spray varnish, spray fixative. The weight of the Grade 7 Supplementary Art Supply Kit is 30 lbs.
Please note: If you order Art Supply Kits online, the price will not include shipping costs, which will be billed separately. In most cases, Art Supply Kits will be shipped by Common Carrier; and we will have several shipping firms competing to give you the lowest possible cost. Please contact us at info@artsattack.com for a shipping quote before placing your order. In most cases, we will be able to quote a shipping cost for your entire art supplies order within 24-48 hours.