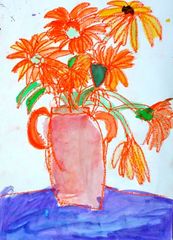 Marvelous Masters - Grades K-1
MARVELOUS MASTERS by Arts Attack is an online program that focuses solely on teaching students about some of the great artists, teaching the artistic style of these artists, and having the students create original artworks in that style. It is designed for students and teachers who want a strong focus on the artists, as compared to the ARTS ATTACK CURRICULUM, which has a broader scope covering the elements and principles of art, drawing technique, self-expression, media exploration, and multicultural art, as well as the masters and their artistic styles.
MARVELOUS MASTERS has four levels designed for different ages (Grades K-1, Grades 2-3, Grades 4-5, and Grades 6-8). Each level has 7 lessons, each teaching a different artist, along with at least 12 artworks by that group of artists (including at least 1 by each artist). Accompanying each artwork is a discussion guide with background information on the artist and artwork, questions for classroom discussion, and suggested supplemental activities and extensions.
Also included is a Teachers Training Video, which includes 2 sample lessons that teach the color wheel, proper use of brushes, and contour (right brain) drawing. For classrooms/students with little art background, teaching these sample lessons before starting the 7 masters' lessons will greatly improve the quality of the resulting artwork.
The great masters covered in Grades K-1 are Pablo Picasso, Vincent van Gogh, Georgia O'Keeffe, Alexander Calder, Jean Miro, Paul Klee, and Henri Matisse.
Are you a school district?
We give multi-school discounts.  Contact us for a quotation that fits your particular needs.
Are you a small school of less than 20 students per grade level?  Call us to receive a small school discount coupon.