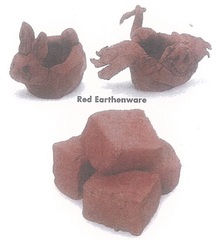 Ceramic Clay Kit
The Ceramic Clay Kit contains 100 lbs. of red earthenware ceramic clay, a medium-fine low firing (fire cones 06-2) red-brown clay. A separate kit has been created for the clay since, due to its heavy weight and relatively high shipping costs, many schools choose to purchase their clay locally. The weight of the Ceramic Clay Kit is 112 lbs. It is sized to meet the requirements of 50 Arts Attack students.
Please note: If you order Art Supply Kits online, the price will not include shipping costs, which will be billed separately. In most cases, Art Supply Kits will be shipped by Common Carrier; and we will have several shipping firms competing to give you the lowest possible cost. Please contact us at info@artsattack.com for a shipping quote before placing your order. In most cases, we will be able to quote a shipping cost for your entire art supplies order within 24-48 hours.
Are you a school district?
We give multi-school discounts.  Contact us for a quotation that fits your particular needs.
Are you a small school of less than 20 students per grade level?  Call us to receive a small school discount coupon.