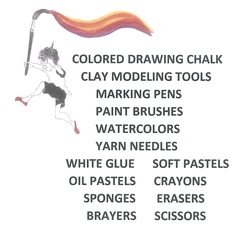 Art Cart Kit
The Art Cart Kit contains non-consumable items, such as paint brushes, students' scissors, erasers, brayers, yarn needles, clay modeling tools, sponges, etc. It also contains media that are used infrequently by all grade levels and that will last more than 1 year - such as marking pens, colored drawing chalk, crayons, oil pastels, watercolor pans and refills, soft pastels, and white glue. It is designed to serve classrooms of up to 30 students and to be shared among 5 or more classrooms in a school (these classrooms need to schedule and coordinate non-conflicting art periods). It is a one-time buy with replacement of the media items as required from time to time. The weight of the Art Cart Kit is approximately 100 lbs.
Please note: If you order Art Supply Kits online, the price will not include shipping costs, which will be billed separately. In most cases, Art Supply Kits will be shipped by Common Carrier; and we will have several shipping firms competing to give you the lowest possible cost. Please contact us at info@artsattack.com for a shipping quote before placing your order. In most cases, we will be able to quote a shipping cost for your entire art supplies order within 24-48 hours.
Are you a school district?
We give multi-school discounts.  Contact us for a quotation that fits your particular needs.
Are you a small school of less than 20 students per grade level?  Call us to receive a small school discount coupon.