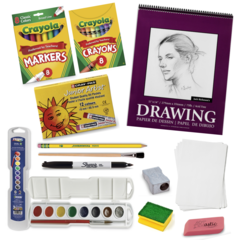 Art at Home - Student Art Supply Kit
The Art-at-Home Student Art Supply Kit contains those art supplies that each student will need to perform the Art-at-Home lessons. It supports all 3 of the Art-at-Home programs - Grades K2, Grades 3-5, and Grades 6-8.
When ordering this product, please be sure to order one kit for each student who will be doing the program.
Shipping costs will be $30 per order, independent of the number of kits ordered.