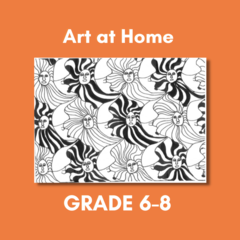 Art at Home - Grades 6-8
This series brings innovative video-based art lessons, as well as a digital art image program, to the elementary or middle school virtual classroom.
A smaller version of the award-winning Arts Attack Online, this fully validated program provides an easy to use online format and is designed to meet the needs of every teacher with or without special art training.
The focus of the lessons is on drawing technique and water-color, but other media are also included. Individual student art supply kits can purchased separately.