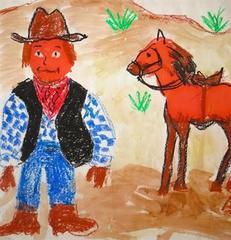 Arts Attack DVD - Grade 1
The Arts Attack Grade 1 curriculum provides an age-appropriate balanced approach to teaching art – emphasizing both the fundamentals of art and creative expression. Taught to the right side of the brain, it emphasizes the art elements and principles, drawing technique, and media diversity. Several lessons are derived from children's literature and lessons such as Butterflies, Frogland, Happy Bug's Garden and Sunflowers connect with science. Students study and learn the styles of artists Joan Miro and Paul Klee and create original artworks in their styles.

The Grade 1 program includes 25 lessons, 6.25 hours of instructional video (shown to the students and featuring classroom demonstrations by other first graders), a digital art image program with discussion guides, lesson plans, student drawing aids, teacher reference materials and much more. Being video-based, it can be taught by teachers or parents with little or no art or art education background, as well as by those with considerable art education training – achieving exceptional results in both cases.
Are you a school district?
We give multi-school discounts.  Contact us for a quotation that fits your particular needs.
Are you a small school of less than 20 students per grade level?  Call us to receive a small school discount coupon.