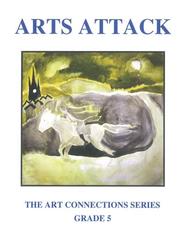 Art Connections DVD - Grade 5
The lessons in the Art Connections Series for Grades K-6 are each related to history, literature, science, social studies and/or art history/appreciation. Each grade level has 4 project-oriented lessons, presented in DVD format and supported by lesson plans. The lessons are designed as enrichment activities for students with a good background and understanding of art elements, principles and techniques - such as taught in the Arts Attack curriculum (or equivalent). They can be purchased either as a complete series or by grade level.

The Art Connections Grade 5 program has 1 lesson based on literature and American history (The Midnight Ride of Paul Revere), 1 lesson related to science (Whales), and 2 lessons concerning art history/appreciation (Paul Gauguin and William H. Johnson). The Grade 5 program has 1.39 hours of instructional video (shown to the students and featuring classroom demonstrations by other fifth graders), lesson plans, student drawing aids, teacher reference materials and much more. Being video-based, it can be taught by teachers or parents with little or no art or art education background, as well as by those with considerable art education training – achieving exceptional results in both cases.
Are you a school district?
We give multi-school discounts.  Contact us for a quotation that fits your particular needs.
Are you a small school of less than 20 students per grade level?  Call us to receive a small school discount coupon.